A University of Georgia Skidaway Institute of Oceanography graduate student is using cutting-edge technology to help the National Park Service monitor erosion and sand accumulation on a man-made beach at Fort Pulaski National Monument near Tybee Island, Ga. Colby Peffer is using a drone to track changes to the shoreline as part of her research for a master's degree at UGA.
The beach is on the Savannah River's north channel and is exposed to wakes created by large cargo ships that use the channel to travel upriver to the port in Savannah. The beach was created by the U.S. Army Corps of Engineers in fall of 2015 as part of a defensive sand berm to protect important salt marsh habitat and historically significant structures at Ft. Pulaski that were being threatened by erosion caused by wave energy. The berm is comprised of high quality dredge spoil from the Corps of Engineers' ongoing work to maintain the Savannah River shipping channel. Such projects are termed "beneficial-use dredge spoil" projects.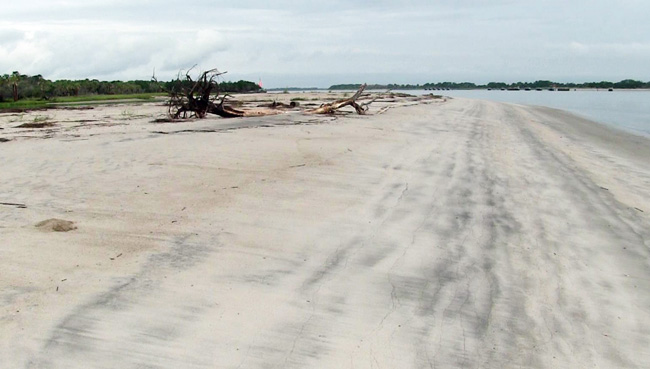 "Beneficial-use dredge spoil projects are basically experimental ways of using high quality dredge spoil in a way that is beneficial to the community," Peffer said. "It also keeps high quality dredge spoil out of upland removal sites where it would then never be able to return to the estuarine system."

Estuarine systems rely on sediment input to maintain their elevation above sea level. Permanently removing the sediment after dredging the channel would deprive the system of sediment input and lessen the salt marsh's resilience to a rising sea level.
Peffer uses a DJI Phantom 4 Pro drone and sophisticated flight planning and image processing software, which allows her to pre-program the drone to fly a specific pattern and take thousands of still pictures.
The entire project is reliant on creating three-dimensional surface models of the shoreline from overlapping aerial photos that can then be layered on top of previous surveys' models. Exact layering is achieved by using large plastic targets that are placed throughout the survey site to serve as ground control points, or GCPs. The location of the center of these GCPs are then surveyed with a high-precision, survey-grade Global Positioning System. Images taken by the drone are developed into a three-dimensional surface, and the GCP coordinates serve as anchor points to tie the surface model down to an actual location on a map with real elevations and coordinates.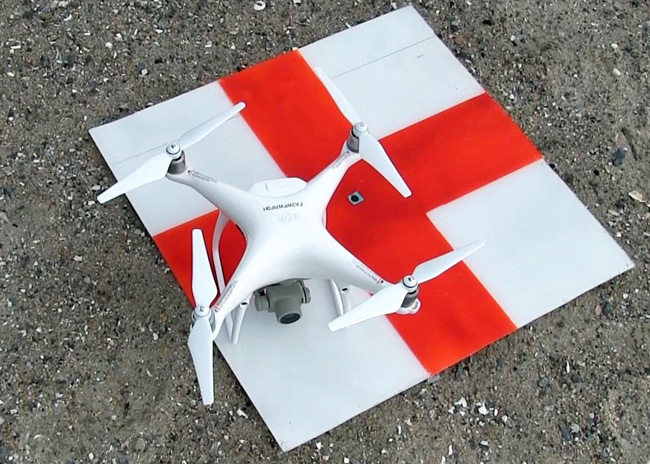 "When we fly over the entire expanse of the beach, we are taking images with a high overlap between adjacent images and at a fairly low altitude," Peffer said. "Each pixel in the image is the equivalent of only a couple square centimeters on the ground. Overall the accuracy of our 3D surfaces is pretty high."

With that kind of precise aerial measurement, Peffer can monitor changes to the shoreline in great detail. Before, with just historic aerial imagery, researchers were largely limited to evaluating shoreline erosion in terms of horizontal retreat and the area of land eroded. With these three-dimensional surface models, researchers can start to look into changes in elevation and loss of sediment volume as well.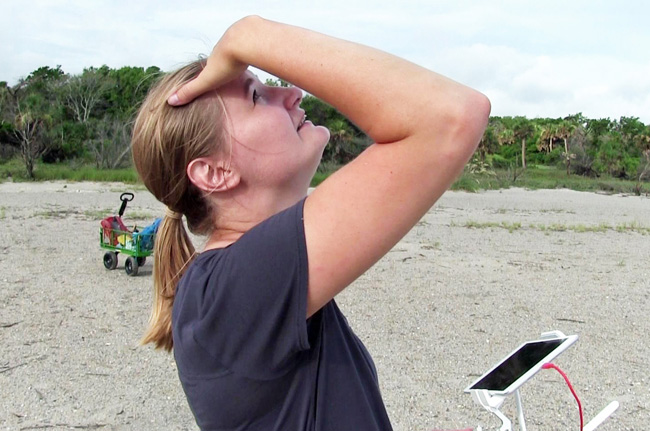 Peffer began her monthly surveys in July 2018 and plans to continue at least until summer 2019, when she plans on defending her master's thesis. After that, the project will be continued by research technicians and, perhaps, another graduate student. So far, despite having only preliminary results, Peffer has already seen some interesting changes occurring on the beach. Although she hasn't completed processing all of the data, early surface model comparisons show significant erosion occurring on the north and west side of the defensive berm.
"Part of the escarpment is eroding away," she said. "We don't know where the sand is going.
"We don't know if the sand is staying on the beach or being removed completely, but as we process our sediment samples we may learn more about the beach's sediment transport pathways."
Ultimately, the data Peffer collects will be the basis of her master's thesis at UGA, but it will also have some practical benefit for the National Park Service. NPS will use the information from this study to create a better management strategy for this shoreline.
"For the first time, the National Park Service will be able to look at more specific erosion and sediment loss rates to evaluate how much longer the defensive berm will be able to prevent destructive wave energy from compromising the stability of vulnerable cultural resources," Peffer said. "They will have more information about how they need to maintain the beach, the specific erosion rate and how often they will need to replenish the sand supply."
The project will also serve as case study for a larger look at the beneficial use of dredge spoil and characterizing erosion in the region.