Roebling House – $35/hour or $250/day: Medium size meeting space with abundant natural lighting. A kitchen and serving bar are built-in. There is a stove/oven, microwave, and two full size refrigerators. Also a double sink and plenty of counter space. Bathrooms are located on the second floor, accessible by stairs only (not ADA compliant.) Seats approximately 30 with tables and chairs, or 40 with chairs only, and A/V equpiment takes much of the space limiting use to aproximately 20 participants. This space is most often used for meetings that include catered meals.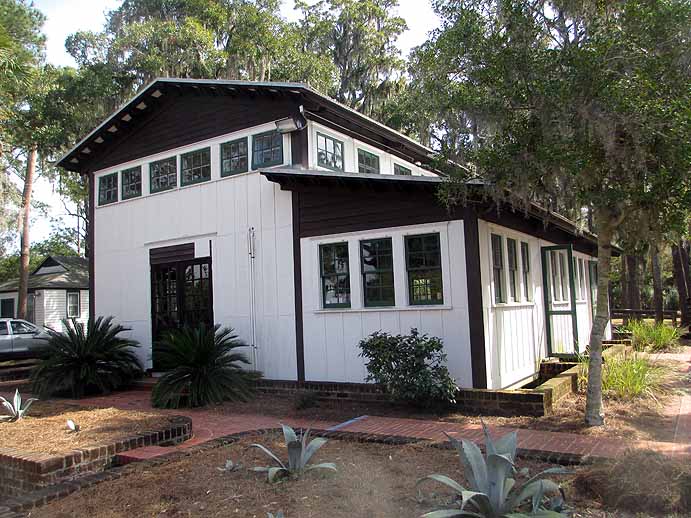 Roebling House Exterior
McGowan Library Auditorium –"Unavailable – currently under renovation through December 2023" An inviting lobby leads to the Auditorium which can be used as a seminar space, or configured with tables and chairs to meet your needs for a conference or teaching session. Zoom meetings are available as well as power point presentations and more. There is an ADA compliant bathroom. Catered meals can be served here (there is no kitchen area in this facility.)
MCSRIC Conference Room – $25/hour or $175/day –MCSRIC is the Marine and Coastal Science Research and Instructional Center. This executive-style conference room seats 12-14 around the conference table and another 15 around the room's perimeter. It boasts three large white boards with conference calling availability and a state-of-the-art system that supports Zoom meetings, Power Point presentations and more.
To Reserve a Meeting Space, Please Contact:
Lisa Doser at lisa.doser@skio.uga.edu
or call (912) 598-2400, Monday-Friday, 9am-5pm
University System of Georgia participants will receive a special University rate.
We do not host weddings, graduations, or other social events.