Skidaway Institute of Oceanography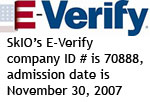 is a unit of The University of Georgia and provides Georgia with a nationally and internationally recognized center of research, education, and service excellence in marine science. UGA Skidaway Institute participates in the E-Verify program that verifies the identity and employment eligibility of all persons hired to work in the United States.
Skidaway Institute of Oceanography is an affirmative action/equal opportunity employer and does not discriminate on the basis of race, religion, color, sex, age, handicap or national origin.