The University of Georgia Skidaway Institute of Oceanography in Savannah, Ga. is soliciting requests from University System of Georgia faculty for ship days aboard the Institute's 92-foot ocean-going research vessel, the R/V Savannah. The R/V Savannah was custom-built to conduct biological, chemical, physical and geological oceanographic studies in estuarine and ocean waters.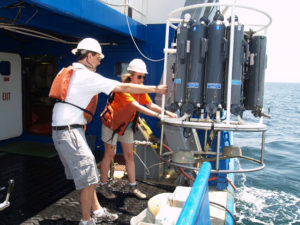 In addition to a ship crew of seven, which allows for round-the-clock operations, the ship accommodates shore-based groups up to 26 for day cruises and 16 for overnight cruises, making it an excellent platform for faculty and students to gain experience at sea and to conduct oceanographic research. Ship days requested to support research activities are preferred but should have a strong educational component.
To apply, interested faculty should complete the application form found at www.skio.uga.edu/marine-ops-2 no later than October 1 for cruises during Fall semester 2019, and no later than November 15 for cruises during Spring semester, Maymester or summer terms in 2020. Successful applications will be selected based on research and educational merits and institutional representation across the USG.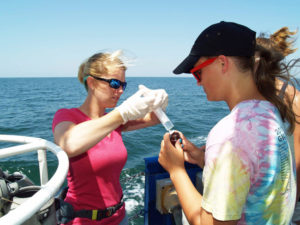 • Faculty from all USG institutions are eligible to apply to lead a cruise.
• Faculty may apply for up to five days of ship time.
• Individual students may apply to join a scheduled cruise. These student berths will be awarded on a space-available basis.
• Cruises are funded through a special appropriation from the Georgia General Assembly. All costs are covered while onboard. Transportation to the vessel's home port, and pre- and post-cruise lodging and meals, are the responsibility of the applicant.
• The cruises will depart from and return to the vessel's home port at the UGA Skidaway Institute of Oceanography in Savannah, Ga.
• The cruise manual is on the ship's webpage  which includes vessel capabilities and a list of shared-use equipment available.
For questions, contact UGA Skidaway Institute of Oceanography Marine Superintendent John Bichy at jbichy@uga.edu or (912) 598-2456.
To apply for ship days, complete the application form at the link below.
*To use this form:
1.) Download the form to your computer.
2.) Open in Adobe Acrobat and complete the interactive form.
3.) Save the form to your computer and email to jbichy@uga.edu.