Athens, Ga. – Clark Alexander, a scientist with a long history of fostering collaboration and excellence in research, has been named director of the University of Georgia Skidaway Institute of Oceanography.
Alexander is a professor in the department of marine sciences, part of UGA's Franklin College of Arts and Sciences, and has served as interim director of the Skidaway Institute for the past year. As director of the Skidaway Institute, he will continue to oversee its personnel, budgets and facilities and report to the Office of the Senior Vice President for Academic Affairs and Provost.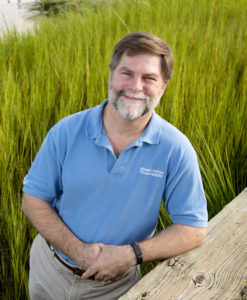 "The Skidaway Institute of Oceanography plays a vital role in training scientists and conducting research that address critical economic and environmental issues that affect our state and world," said Provost Pamela Whitten. "Dr. Alexander's longstanding commitment to deepening the impact of the institute while building bridges with partners on and off campus makes him uniquely qualified to take on this important leadership role on a permanent basis."
Alexander's research explores how physical processes such as erosion and sedimentation impact coastal and marine environments. His work has been supported with nearly $6 million in external funding from agencies such as the National Science Foundation, the National Oceanic and Atmospheric Administration, the U.S. Geological Survey and the Georgia Coastal Management Program. He has participated in more than 60 field programs in 13 countries and has been the chief scientist on nearly 30 expeditions. Alexander has been the recipient of several honors, including the Preservation Achievement Award from the Georgia Department of Natural Resources.
He joined the Skidaway Institute's faculty as an assistant professor in 1991 after earning his doctorate and master's degrees from North Carolina State University and two bachelor's degrees from Humboldt State University in California.
"Since 1968, Skidaway Institute faculty and staff have worked to create new knowledge and produce highly trained students in the marine sciences," Alexander said. "Through new program initiatives within the department of marine sciences and new collaborations with other colleagues at UGA and throughout the University System of Georgia, we are building on that legacy to enhance research and education statewide. I am grateful for the opportunity to lead the institute during this exciting time in our history."
The UGA Skidaway Institute of Oceanography is a multidisciplinary research and training institution located on a 700-acre campus on Skidaway Island, southeast of downtown Savannah. Its primary goals are to further the understanding of marine and environmental processes, conduct leading-edge research on coastal and marine systems, and train tomorrow's scientists. For more information on the Skidaway Institute, see https://www.skio.uga.edu/.