Researchers from the University of Georgia Skidaway Institute of Oceanography and the Southeast Coastal Ocean Observing Regional Association (SECOORA) welcomed a new glider to their research fleet with a christening ceremony at UGA Skidaway Institute on Tuesday, April 23. The new glider was purchased and is owned by SECOORA, but will be based at UGA Skidaway Institute and operated by the UGA Skidaway Institute glider team headed by Catherine Edwards.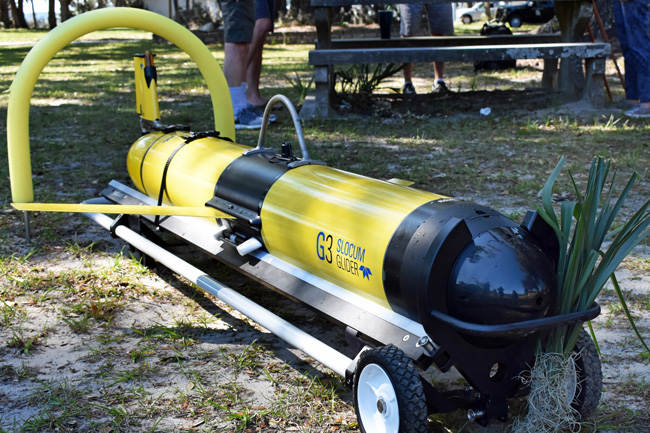 Gliders are torpedo-shaped crafts that can be packed with sensors and sent on underwater missions to collect oceanographic data, and are classified as autonomous underwater vehicles, meaning that they operate untethered on their own. Equipped with satellite phones, the gliders surface periodically to transmit their recorded data and to receive new instructions during missions that can last from weeks to months.
The glider is named Franklin, after Benjamin Franklin who ordered the first chart of the Gulf Stream.  The christening ceremony, based on traditional versions for naming and renaming boats, called upon the favor of the gods of the sea, the wind, the tide and the Gulf Stream, and was offered by Edwards, research professional Ben Hefner, SECOORA executive director Debra Hernandez and UGA Skidaway Institute assistant director Marc Mascolo.
Hernandez then capped the ceremony by smashing a bottle of champagne against a metal weight positioned near Franklin's nose.
Franklin is outfitted with a pumped conductivity-temperature-depth sensor and a three-channel fluorometer that measures chlorophyll, dissolved organic matter and turbidity. It also has a dissolved oxygen sensor and two built-in Vemco acoustic receivers that listen for tagged fish and other animals. The glider is powered by lithium-ion batteries that will allow it to remain on mission for up to five to six weeks at a time without recharging.
Franklin's first deployment will be a SECOORA mission next week at Gray's Reef National Marine Sanctuary off the Georgia coast. It will be joined on the mission by UGA Skidaway Institute's other glider, named Angus.