A research paper by University of Georgia Skidaway Institute of Oceanography scientist Natalie Cohen was selected as the cover article in the February issue of the journal Nature Microbiology.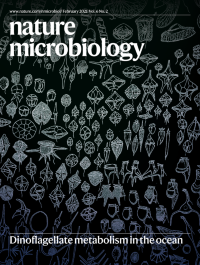 The paper, "Dinoflagellates alter their carbon and nutrient metabolic strategies across environmental gradients in the central Pacific Ocean," was based on data a team of fellow researchers collected on a 2011 cruise in the equatorial Pacific Ocean. Dinoflagellates are tiny plankton, many of which are capable of using photosynthesis in addition to eating small prey. They play a fundamental role in the biogeochemical cycles in the ocean by transferring energy from lower to higher life forms and also transporting carbon vertically in the water column.
"Some dinoflagellates can travel vertically in the water column using their flagella," said Cohen, the lead author of the paper. "Some are also capable of bioluminescence which can light up the sea surface at night.
"They are found throughout the world's oceans and an important component of the ocean carbon cycle."
When the scientists analyzed the data from the cruise, they discovered a greater abundance of dinoflagellates than they expected. Researchers found the dinoflagellates were abundant both in the sunlit surface ocean and also in deeper, darker waters. This relative abundance in two drastically different environments lead the researchers to conclude the dinoflagellates must change how they function as they move from one depth zone to the other.
"We deduced that they must have a distinct and effective set of strategies that allow them to outcompete other phytoplankton (capable of photosynthesis) in surface waters and other heterotrophs (capable of eating) in the deep ocean," Cohen said. "Therefore, they are important members of the microbial community across huge expanses of the Pacific."
Cohen conducted the research while she was a postdoctoral fellow at Woods Hole Oceanographic Institution.
Along with Cohen, the other members of the research team include Matthew McIlvin, Dawn Moran, Noelle Held, Jaclyn Saunders, Mak Saito and Michael Brosnahan, all from Woods Hole; Nicholas Hawco from the University of Southern California; Giacomo R. DiTullio from the College of Charleston; Carl Lamborg from the University of California, Santa Cruz; and John McCrow, Chris Dupont, Andrew Allen, all from the J. Craig Venter Institute.
The entire paper can be viewed at the journal website.