by Natalie Cohen
Over the past two days, I assisted with one of the research cruises of the DolMICROBE field campaign led by the Frischer and Greer labs at UGA Skidaway Institute. It was an exciting and educational research cruise, aimed at better understanding the doliolid communities in the South Atlantic Bight.
Sara Rivero-Calle and I were brought onboard to help out with routine sampling. I was trained by Marine Tech Morgan Hudgins on how to operate the CTD sensors so we could display physiochemical properties during CTD deployments in real time. There was an incredible amount of science and exploration happening onboard, and this blog post is a summary of events, and my first impressions from sailing in the South Atlantic Bight on the R/V Savannah.
The R/V Savannah is a unique vessel. It moves unlike any other ship I have been on in that it has a flatter keel (bottom) compared to most ocean-going vessels that have narrow keels. This is because it was designed to be able to work in shallow coastal areas in addition to more oceanic environments. As a result, it takes hard hits from waves and moves in a way that doesn't feel excellent on the seasick body. In the words of Marc, it is sort of like a shimmy instead of a smooth roll. The best way I can describe it is that the ship doesn't move in the direction you would anticipate based on where the wave hits. Almost everyone was seasick our first day! 20 knot winds on the starboard side and we were feeling it. Fortunately, the weather calmed down towards the end of our first day.
The food on the R/V Savannah is ridiculously tasty! Our first meal was biscuits and gravy – a hearty breakfast for a team with a long day ahead of them. Lunch consisted of Mediterranean gyros, and dinner was mahi with rice pilaf, peach salsa, and green beans. My mouth is watering just thinking about it. Check out photos of the meals by postdoc Laura Treible. In between meals, the ship is stocked with treats including cookies, fruit, ice cream, chocolates, and pretzels. Many of us had all of the above.
One of the perks of being an oceanographer is seeing charismatic megafauna (i.e., animals!) on research cruises. We saw a pod of dolphins in the morning while prepping the CTD – a pleasant way to wake up. We spent about an hour outside trying to figure out if a shark-like creature was a Cobia or proper shark. Adam says the dorsal fin was much bigger than the others – a tell-tale sign of a shark. Ship crew member Kevin Hunnicutt managed to catch it. Turns out that Adam was right, it was a shark.
As we were steaming back to shore, we encountered a fever of brown rays.
Along with the rays was a brigade of cannonball jellies. Laura caught one to bring back home. She and Adam are interested in what these jellies are eating and why they are so abundant. Although I didn't see them, a crew member saw a beautiful mahi-mahi and a sea turtle.
Sampling on this trip was overall a success. The central question that is being addressed though this project is: how does the marine food web operate when gelatinous zooplankton rather than crustacean zooplankton dominate the base of the food web? This an important question because many predictions suggest that the ongoing warming, acidification, and deoxygenation of the oceans associated with climate change will favor gelatinous organisms (jellies) over other species. We sampled across the South Atlantic Bight in three shelf regions: the inner, mid and outer shelf.
I was surprised at how quickly the seawater properties changed across this narrow transition zone. At 25 m depth, we are still sensing riverine influence from the coast. There were not many doliolids. Lots and lots of other zooplankton, though! It was a productive system. Patrick Duffy reports predatory fish larvae at this site, and a lobster larva grabbing on to a small jelly fish that it was trying to eat.
By the time we got to 45 m, the water was warmer, and we saw sargassum, which is usually found in the Sargasso Sea and blows inward. Not many doliolids here either, but we found a few doliolids that were in their asexual (nurse) reproductive stage. They are being transported back to the lab to determine if they can be cultured. According to Marc they probably won't make it, unless Tina can resuscitate them. I was surprised to see happy and healthy trichodesmium which is a nitrogen-fixing filamentous cyanobacteria also found in the Sargasso Sea. Marc tells me that trichodesmium is commonly seen in the SAB though it is not common for it to bloom. That is one of the many new things I learned. Crustacean communities also appeared to be different at this station compared to the more coastal station, but differences in sampling time of day and the qualitative nature of net-tow make this observation anecdotal for what we were able to image this cruise. We also observed salps, more copepods, and a pteropod among other interested critters.
We sampled all the way out to the 70 m isobath on the outer shelf, which was the deepest station we reached. Out here, we are in true ocean water. The water is deep blue. We got there earlier than expected given how quickly the shelf drops off, which resulted in a few crew members missing the station at midnight because they had gone to sleep and had their alarms set for 2 am when we thought we would reach the station. We collected seawater and sent down a net to check out the zooplankton community, which turned out to be similar to the communities we observed at the 45 M station.
On the way back towards land on our second day, we sampled at the 25 m station again. Compared to just one day before, there appeared to be fewer gelatinous zooplankton and more copepods. The system is so dynamic that in just a short period of time, composition dynamics changed. We finished up the second day with breakfast burritos and personalized pizza.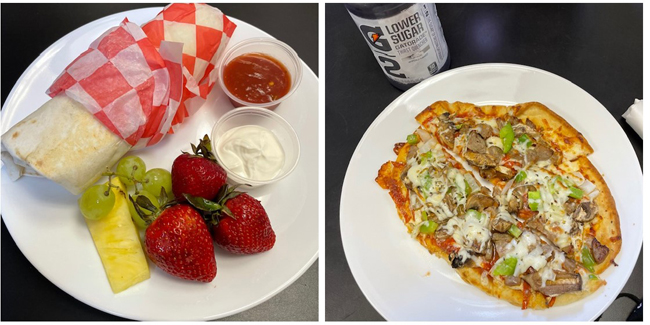 Overall it was an excellent first cruise on the RV Savannah, a nice introduction to the DolMICROBE project, and I look forward to more adventures ahead in the South Atlantic Bight!
Photos: From by M. Frischer, L. Treible, and K. Aaron