UGA Skidaway Institute of Oceanography director Clark Alexander was voted the 2022-23 president-elect of the Southern Association of Marine Laboratories (SAML), and will serve as president for 2023-2024.
SAML is a regional organization within the National Association of Marine Laboratories. It is comprised of 48 marine laboratories and governmental agencies stretching from Virginia to Texas and including Bermuda. Its purpose is to promote cooperation and effectiveness of member institutions in their work on marine and coastal resources, as well as share solutions to issues facing coastal field installations.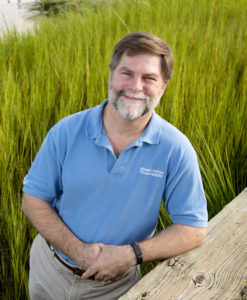 Alexander is a coastal and marine geologist who joined the Skidaway Institute as a post-doctoral scientist in 1989, achieved the rank of full professor in 2003 and was appointed director in 2016. He earned bachelor's degrees in oceanography and geology from Humboldt State University in California. He went on to earn his master's and doctoral degrees in marine geology from North Carolina State University.
As a researcher, Alexander has participated in 64 field programs from New Zealand to Siberia and has been the chief scientist on 29 oceanographic cruises with a total of more than two years at sea. He has published 92 papers in scientific journals, and, in the past decade, has received more than $4 million in direct research funding. From 2003-2017, he also served as the director of the Georgia Southern University Applied Coastal Research Laboratory on Skidaway Island.
Alexander has been very active on federal, state and regional advisory boards and has worked closely with the US Army Corps of Engineers, South Atlantic Fisheries Management Council, Governors' South Atlantic Alliance, and the Georgia Department of Natural Resources to identify and address pressing coastal management needs. He served on the Georgia Coastal Marshlands Protection Committee and the Georgia Shore Protection Committee, which permit all major activities within the state's marshes and beaches, from 1998 to 2006.