A team led by UGA Skidaway Institute of Oceanography scientist Sara Rivero-Calle has received "pre-seed" funding to develop proposals to use satellite remote sensing tools to study the Earth's water resources.
In 2020, the UGA Office of Research, in partnership with the Office of the Provost, launched its Teaming for Interdisciplinary Research Pre-Seed Program to encourage UGA faculty to form teams and collaborate around critical areas of research expertise or emerging research topics. The goal is to stimulate the formation of large-scale research teams and position UGA researchers to be more competitive in attracting resources for collaborative research, including internal UGA seed grants and, ultimately, external grant support.
"Water is a key resource on planet Earth," Rivero-Calle said. "It shapes our food, society, economy, lifestyle, landscape and where we live.
"In fact, 90% of humans live less than 10 kilometers away from a body of water. Therefore, it is imperative to safeguard and understand this precious resource."
The project, "Satellite Remote Sensing Applications for Global Water Resources," pulls together expertise from many related research areas, including water quality, sea levels, hurricanes, harmful algal blooms, underground water, freshwater, primary production, sea ice, watersheds, farmlands and coastal hazards.
"The purpose of this group is to bring together an interdisciplinary team of UGA experts in remote sensing technology and water resources to develop proposals targeting these topics," Rivero-Calle said.
The motivation behind forming the team is the upcoming call for proposals for NASA PACE Satellite Validation Teams. The project is a NASA satellite scheduled for launch in 2024, and PACE stands for Plankton, Aerosol, Cloud, ocean Ecosystem (https://pace.gsfc.nasa.gov/).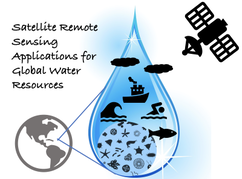 NASA is expected to request proposals for validation teams in early 2023. These teams will collect ground-truthing field data that NASA will compare with what the PACE satellite reports. The field data is also important for developing new algorithms (including some to address regional problems, such as South Atlantic Bight) in the future. PACE will provide information on ocean biology, chemistry and water quality, but also about the composition of the atmosphere above it.
"The hyperspectral capabilities of the ocean color sensor have potential to distinguish between groups or even species of plankton," Rivero-Calle said. "I am very excited about this advanced capability of PACE."
In addition to Rivero-Calle, the multi-disciplinary team includes Skidaway Institute Director Clark Alexander, a geologist; Skidaway researcher Clifton Buck, a marine chemist; Adam Milewski from the Department of Geology; Bill Miller from the Department of Marine Sciences; Deepak Mishra from the Department of Geography; Lakshmish Ramaswamy from the Department of Computer Science; and Rosanna Rivero from the College of Environment and Design.
That group includes experts in remote sensing, oceanography, big data, machine learning, coastal and inland waters hazards, coastal ecosystems, hydrology, aerosols and computer science.
UGA researchers are well-positioned to work on satellite validation. Rivero-Calle's lab is currently working on satellite validation of the ocean color SeaHawk CubeSat mission. Skidaway Institute also operates the Research Vessel Savannah, which is equipped with a state-of-the-art optical system that was designed by Rivero-Calle precisely for satellite data validation in a continuous, way whenever the ship is at sea.
The pre-seed funding grant totals $3,750.