A new display at the University of Georgia Marine Extension and Georgia Sea Grant's aquarium on Skidaway Island translates the complex life cycles of marine animals into an easily understood snapshot of the ocean ecosystem. The display was created by UGA Skidaway Institute of Oceanography scientist Adam Greer, UGA graduate student Taylor Kilgore and the UGA Aquarium staff.
For the past several years, Greer has worked with Skidaway Institute scientists Marc Frischer and Jay Brandes to study the impacts of a little-known gelatinous organism called a doliolid. Although small — only about the size of a pencil eraser – doliolids are a major component of the marine ecosystem, with a remarkable capacity to reproduce and form dense aggregations, known as "blooms." Greer and colleagues wanted to help a larger audience appreciate the beauty of doliolids, but at the same time, help them understand that doliolids have a complicated life cycle that researchers are just starting to resolve with camera technologies coupled to other scientific sampling approaches.
"'The 'Life Cycles in the Sea' idea was an extension of this concept to include the huge majority of life forms that spend part of their lives within drifting plankton communities," Greer said. "We want people to understand these early life stages can't control where they go and are sensitive to changes in their environment.
"Therefore, we need to do our part to ensure the early life stages have good water quality, so these animals we care about can complete their life cycles."
The display, which was funded by the National Science Foundation, shows how many ocean animals, including blue crabs and popular fish species that grow much larger as adults, begin their lives as small (1 mm or so), drifting plankton that must survive these vulnerable life stages to reach adulthood. It also includes a video that demonstrates how scientists are using new technologies, like towed camera systems, to study where these plankton live and what kind of environments they are encountering.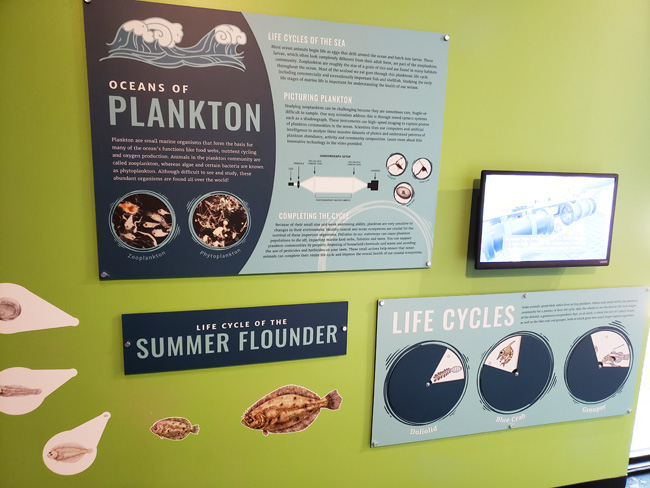 "This includes the physical properties of the ocean water where they live, such as the depth, salinity and temperature," Greer said. "And, also, the biological characteristics, such as the predators and prey they might encounter."
Greer credits the staff at the UGA Aquarium with helping to narrow their general idea and giving the public a strong and understandable "take home message." The aquarium staff used their experience to advise Greer on all aspects of the exhibit to have the most impact on visitors. They helped Greer better understand what phrases and visuals would resonate with audiences of different ages and interest levels.
"We want our visitors to leave here with well-rounded knowledge of Georgia's local ecosystems, and plankton are an important part of that," UGA Aquarium curator Lisa Kovalanchik said. "It's hard to have a live exhibit with organisms so small, but an interactive display is a great way to fit that need while engaging visitors of all ages."
Kilgore, a master's student in marine sciences at UGA, worked with Greer and the aquarium staff to design the exhibit and to maximize its impact. She also viewed hours of video footage collected by Savannah College of Art and Design students who joined the scientists on a research cruise. Kilgore edited the footage down to a two-minute video that shows how the camera system is deployed.
"We want people to understand that the life cycles of ocean animals are often complicated and require huge changes in both their size and lifestyle," Greer said. "Sampling technologies, like the towed camera system shown in the display, are helping us understand the environments that these early life stages experience."
The UGA Aquarium is open Monday through Friday from 9 a.m. to 4 p.m. and Saturdays from 10 a.m. to 5 p.m. Learn more about visiting the facility at gacoast.uga.edu/aquarium.
###