Note: Marc Frischer and Victoria Baylor are back in Barrow, Alaska for their final research trip on their climate change project .  They will be blogging about their "adventures." In this post, March Frischer writes.
13 January 2012
It's back to Barrow again!  This will be our last trip of this project so it's a bit bitter sweet for us.  We are very excited about collecting the last of our field data and proceeding to the next phase of the project.  It's exciting to, after 3 years of hard work collecting samples and data, to finally be in a position to analyze it.  We should have enough data now to address our main questions about microbial processes and the potential change that may occur in the Arctic as the permafrost melts and releases all of the organic material that has been stored there for thousands of years.  On the other hand we're going to miss the excitement of the trips and the raw beauty and drama of the high Arctic that we have had the opportunity to experience.
As with our previous trips we have been hard at work arranging the logistics for this trip.  Making sure we have all our equipment and supplies in place and organizing our sampling logistics and team.   A good piece of advice for anyone conducting field work in remote locations: never get ahead of your gear. Because it is the winter (again) the challenges of working in Barrow are at their highest.  We are expecting temperatures to again be well below zero ranging from -20 to -40 degrees below zero with significant wind chill.  Last time we were in Barrow we experienced temperatures of -47 deg F and wind-chill approaching -70 degrees.  So far the weather forecasts are a bit better than that for this trip.
Another major logistic challenge for us during this trip will be organizing ourselves so that we can retrieve all our gear that has accumulated in Barrow.  We are not allowed to leave anything on the NARL campus once the project is completed. Victoria and the rest of our team have been working very hard to figure out how we're going to get all our stuff home or give away what might be useful for people in Barrow to take ownership of.  We are planning on leaving  a lot of basic supplies (test tubes, bottles, graduate cylinders, etc) to a local middle school science teacher, Debby Green, who've we've been working with, but that still leaves us with a lot to get home.  We're expecting to ship home on the order of a ton of gear.
Travelling across the country in the winter is always a bit risky, but our trip was smooth and thankfully uneventful.
Zac who regularly participates on these trips couldn't come this time because he is about to be a father. His daughter Iris is due on 4 Feb, but he volunteered to take Victoria Baylor and me to the airport for our 6 am flight. It was still dark when we got to the airport. We flew to Chicago and had plenty of time to get something to eat and check in for our next flight to Anchorage.
"]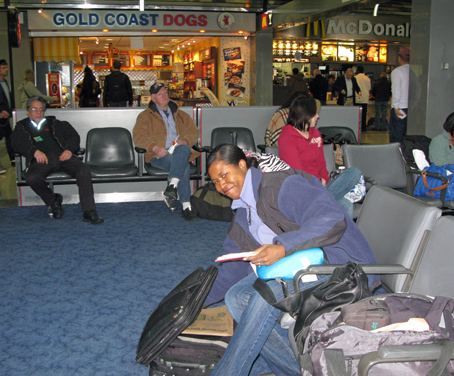 We arrived 7 hours later in Anchorage, collected our bags and took the airport shuttle to the hotel where we spent the night. We've stayed there several times over the past years so the place is familiar and comfortable. We've found that it is really helpful to get a good night of sleep before starting one of these trips.
After checking in and getting settled (Victoria had to run an errand.), we went to a nearby restaurant Gwinnee's for dinner. Gwinnee's is a kind of an Alaskan Cracker Barrel, but it's not a chain.  Victoria doesn't drink but she took the opportunity to serve the bear a beer. I guess she figured that it must be thirsty.