The effects of climate change make headlines almost daily. All across America and the globe, communities have to adapt to rising sea levels, intensified storms and warmer temperatures.
The University of Georgia Skidaway Institute of Oceanography, The Book Lady Bookstore and the UGA Press will present Rick Van Noy, author of Sudden Spring: Stories of Adaptation in a Climate-Changed South, in a special Evening @ Skidaway program on Friday, May 31.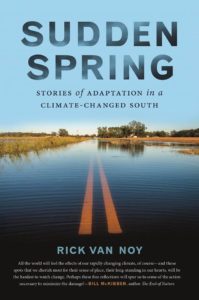 The event will begin with a reception at 6:30 p.m., followed by the program at 7 p.m. in the McGowan Library on the UGA Skidaway Marine Science Campus (10 Ocean Science Circle, Savannah, GA 31411).
Like Rachel Carson's groundbreaking work Silent Spring, Van Noy's Sudden Spring (UGA Press 2019) is a call to action to mitigate current trends in our environmental degradation. By highlighting stories of people and places adapting to the impacts of a warmer climate, Van Noy shows us what communities in the South are doing to become more climate resilient and to survive a slow deluge of environmental challenges.
Van Noy is a professor of English at Radford University and the author of Surveying the Interior: Literary Cartographers and the Sense of Place (University of Nevada Press, 2003) and A Natural Sense of Wonder: Connecting Kids with Nature Through the Seasons (University of Georgia Press 2008).
The program is open to the public, and admission is free. Space is limited. To reserve a seat, please call (912) 598-2325 or email mike.sullivan@skio.uga.edu.