University of Georgia Skidaway Institute of Oceanography emeritus professor Stuart Wakeham was recently named the 2021 recipient of the Alfred Treibs Award. The award was presented by the Organic Geochemistry Division of the Geochemical Society, an international scientific society founded to encourage the application of geochemistry to improving our understanding of the Earth and solar system.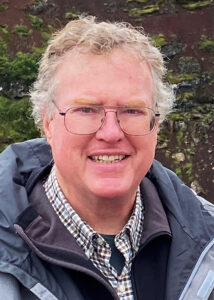 The Treibs Award is given for major achievements, over a period of years, in organic geochemistry. Such achievements consist of pioneering and innovative investigations that have made highly significant contributions to the understanding of the origin and fate of organic materials in the geosphere and/or in extraterrestrial environments. Wakeham was recognized for pioneering work on fluxes and compositional changes of marine organic matter at the molecular level, on microbial biomarkers in marine oxygen-deficient zones, and on molecular proxies.
Wakeham retired in 2009 following a lengthy career as a marine organic geochemist, including 22 years at Skidaway Institute. After receiving his Ph.D. from the University of Washington, he was a postdoctoral fellow at the Swiss Federal Institute of Water Pollution Control and Water Resources of the Swiss Federal Institute of Technology and a scientist at the Woods Hole Oceanographic Institution.
Wakeham's research focuses on using organic compounds to characterize the functioning of the carbon cycle in the ocean. It seeks to answer questions about the sources and processes affecting the fate of water column particulate and sedimentary organic matter; what organisms and their ecologies at all scales are responsible for these processes; and how isotopic compositions of organic molecules encode biogeochemical information.
Alfred Treibs' legacy consists of classic papers on porphyrin pigments as the starting point of organic geochemistry, notably that petroleum has a biological source. The Treibs Award consists of an engraved silver medal, an honorarium, a certificate and inclusion as a Geochemistry Fellow.